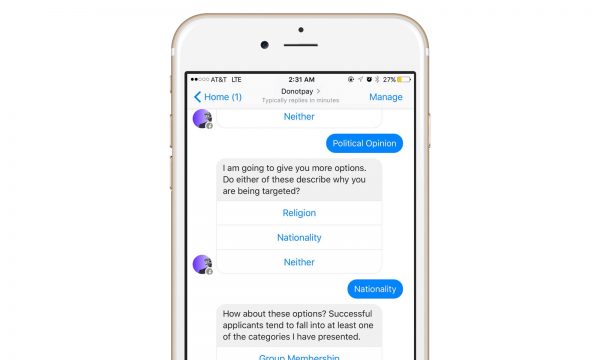 A Facebook Messenger conversation could help you start a new life.
Source: Parking ticket chat bot now helps refugees claim asylum via engadget
This isn't as much about the politics of the situation as it is the way the technology is being repurposed. It's easy to get wrapped up in the day-to-day ways we use tech and how it makes our lives easier and perhaps entertains. Or, apparently, lets us avoid parking tickets. No, what's cool here is that technology developed for one purpose is being used for something of a more humanitarian nature. I love the practical application of something that we might otherwise consider frivolous.
Techie nitpick: the article refers to an AI (Artificial Intelligence). My take is it's more likely a simple expert system – a series of questions and answers that lead to different outcomes, directions, and results based on the answers made along the way. Artificial? Sure. Intelligence? Not so much. Useful? Absolutely.